Unitedpharmacies.md is an Oceania based company. It has been operating in the market space for about three years. The company offers a wide range of meds at affordable rates.
Our first impression of the UnitedPharmacies.md was pleasant, kudos to the design team. But the critical question is, does this website delivery quality? This is what we want to find out with our review.
Unitedpharmacies.md Approvals and Certifications
ScamAdviser
ScamAdviser gave us some positive insights. Yes, Unitedpharmacies.md managed to score a 98% high score on ScamAdviser. We hope the brand maintains this outlook. Going into details: the company has a high trust rating, and it looks good. It is a subsidiary of UMO LTD. The website is eight years old. It is believed the site originates from the United States or the Netherlands. But we will confirm that later.
CIPA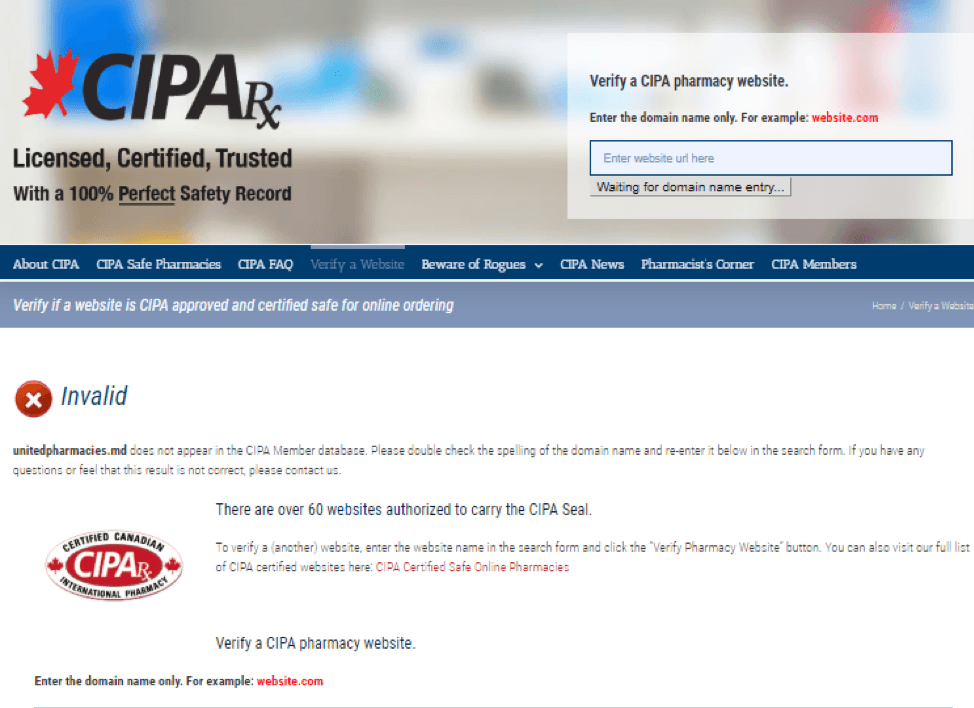 CIPA labels UnitedPharmacies.md as Invalid. We will explain that in a bit.
Before anything else, we would like to say it was nearly impossible for United Pharmacies to obtain the CIPA Seal of Trust. Yes, the Canadian International Pharmacy Association does an excellent job of reviewing the medical marketplace in Canada, but that's about it, it doesn't keep an eye on foreign players, let alone reward them for their high standards or exceptional work.
LegitScript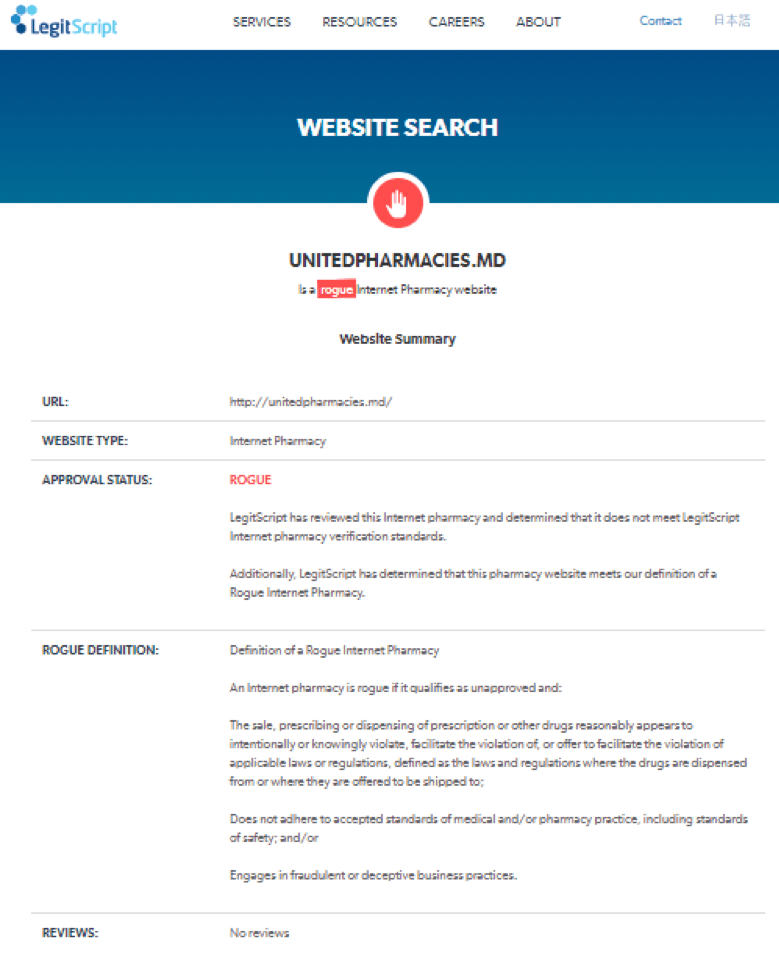 LegitScript is straight to the point. It labels Unitedpharmacies.md as "Rogue". The checker describes a rogue as a company that engages in fraud or deceptive business practices. It means the company doesn't have any quality to offer. It will just rip off the poor customers and try to milk as much money as it can.
Its possible the company offer fake or low-quality products for high-profit margin.
Unitedpharmacies.md Reviews
Trustpilot
It's annoying but TrustPilot also have no data available for us. The popular review website has got 0 reviews on UnitedPharmacies.md, and it doesn't help our case. This is not the first checker that had nothing on United Pharmacies.
This is becoming a routine, and we are getting suspicious. Anyhow, we will continue our review down below, and we hope the situation changes. It's essential because we don't have a solid perspective on United Pharmacies.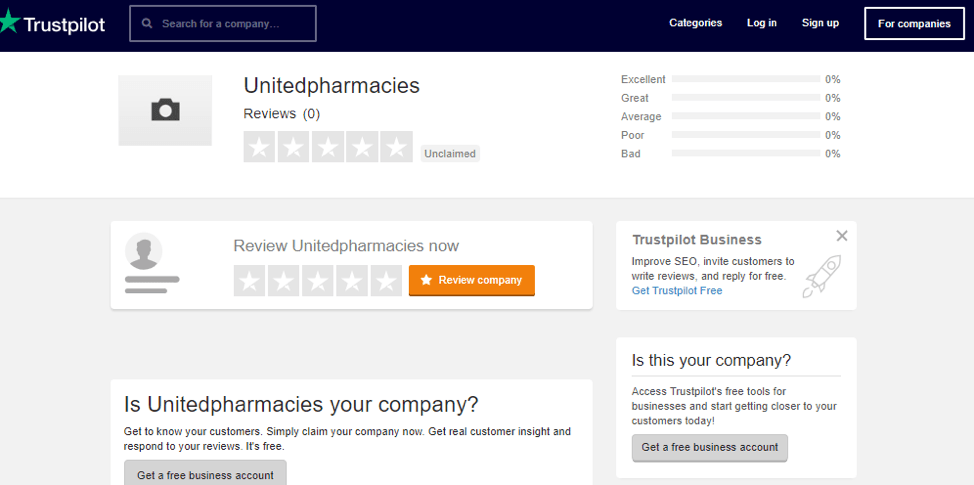 WOT
This is the end of our rope. Even WOT has no data on UnitedPharmacies.md. This only points out to one thing only; the site is not as popular as it made us believe. Well, we can't comment on the authenticity of this website, but we will suggest it should improve its marketing game. Or else it would be impossible for the site to compete in the medical market space.
Unitedpharmacies.md Google Reviews
You would think a company would grab every chance it could to improve its brand awareness. But that's not the case here. Yes, Unitedpharmacies.md is not interested in improving its brand awareness as it skipped out on Google Reviews.
Seriously, we dug around but found nothing. There is no mention of UnitedPharmacies.md on Google Reviews, the company seriously needs to change this.
Unitedpharmacies.md Coupon Codes
This is no different than brand awareness. The company also not seems interesting in creating and maintaining customer loyalty or a community of its own. This is a short way to kill any business and United Pharmacies seems to be doing an excellent job. It offers no discount or coupons. We are sorry to see this.
Trusted Pharmacies Reporting
Scam Pharmacies Reporting
Conclusion
After everything we read, it points down to only one thing; the company is not going to last long in the marketplace. It practices every bad thing that we are taught to avoid. So how will it continue? By ripping off customers and making money in every wrong way possible?
This could be a possibility because we don't see any reason the company would stay afloat with its current practices. So, before you ask, kindly stay away from this pharmacy.
We give Unitedpharmacies.md 2 out of 5 stars.