Sildenafil Sandoz 50mg/100mg is a generic medication which is claimed to work just like Viagra to improve problems related to sexual health of men. The drug is available in the form of tablets only with 100 mg and 50 mg potencies. Sildenafil is present in the formula of Sildenafil Sandoz which has proved as a beneficial agent in providing hard erections and keeping them for a long time. The quality of life is improved and the lost confidence is regained by men. The drug guarantees to satisfy the patient as well as his patient. Sildenafil Sandoz is to be used via oral route only and alcohol is discouraged to be used with it. According to different reports, this medicine has been linked to a lot of side effects like a headache, body pain, stomach upset and much more. Children and female should not use Sildenafil Sandoz as it can cause complications in them.
About Sandoz
Sandoz is a global pharmaceutical company that deals in generic medication and biosimilars. The company claims to enjoy the highest rank among the pharmaceutical businesses dealing in biosimilars. Some of the noteworthy products manufactured at Sandoz include implants, orodispersible films, creams, multiple-unit tablets, gels, prolonged release tablets, transdermal patches, inhalers and lyophilized products.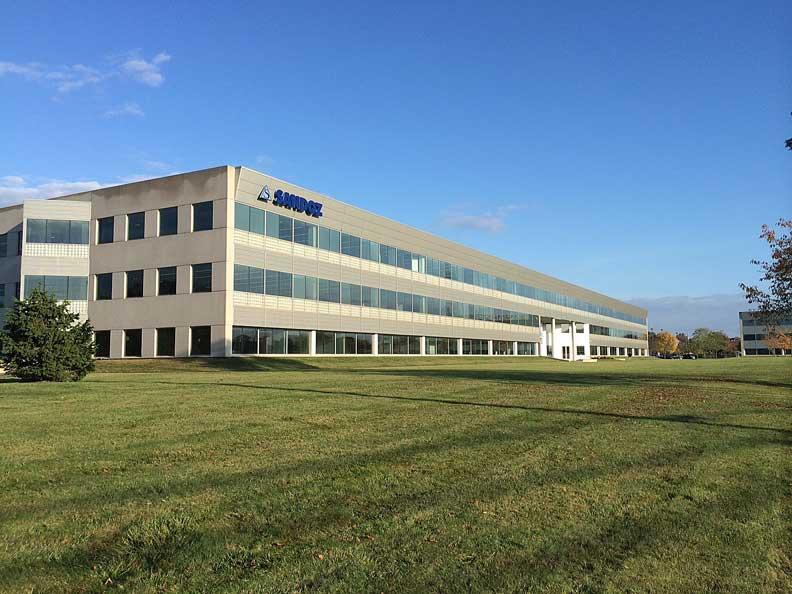 Sandoz focuses on providing quality medicine to people within affordable prices. Medicines belonging to the areas of the central nervous system, cardiovascular system, ophthalmology, pain management, oncology, hormones and respiratory system are manufactured at Sandoz. The company claims that it pays special attention to improvising environment-friendly techniques at their manufacturing plants. [1]
Clinical Research on Sildenafil
"Results from different patient populations using combined therapy with alprostadil and sildenafil: predictors of satisfaction" by J.H. Mydlo et al checked the efficacy level of sildenafil combined with alprostadil in men suffering from erectile dysfunction. The goal of this research was to check the effects produced by sildenafil was given orally and alprostadil given via intraurethral route in men who were patients of erectile dysfunction and their satisfaction levels were checked. 360 men were selected for this study who were suffering from erectile dysfunction and were given single therapy or a combination therapy in private practice as well as clinic practice. International Index of Erectile Function (IIEF) was used to evaluate response observed in each individual patient. The evaluation of results was performed both before as well as after the treatment. Group 1 consisted of both clinic and private patients who were given alprostadil first and sildenafil monotherapy later. It was seen that majority of these patients were highly satisfied at the end of the treatment. Group 2 comprised of people who took sildenafil therapy first and alprostadil therapy later and was also seen to be extremely unsatisfied with the treatment outcomes. Both of these groups were given both drugs together later and results were deduced. Results showed that a high percentage of people who took the treatment in private had a lot more satisfaction towards the treatment as compared to those who got clinic treatment. For similar reasons, the rate of withdrawal from the therapy was found to be three times more in clinic patients as compared to the private ones. It was concluded that the combination therapy produced almost similar effects in both types of patients receiving it. However, it was seen that the satisfaction level in private patients was much higher than the clinic patients. This suggests that a lot of other factors in addition to motivation play a role in overcoming a problem of erectile dysfunction. Combined therapy should be used in patients who are not responding well to the monotherapy and are not fit for a surgery. [2]
"Sildenafil Citrate Therapy in 22 Dogs with Pulmonary Hypertension" by Heidi B. Kellum et al focused on the benefits of sildenafil citrate in treating pulmonary arterial hypertension. Pulmonary arterial hypertension is a disease in which the pressure in the pulmonary artery is abnormally increased. The disease is linked with poor prognosis and is said to be treated with phosphodiesterase type 5 inhibitor like sildenafil citrate which causes vasodilation and reduces the pressure. It was hypothesized that using sildenafil will bring improvements in pulmonary hypertension in dogs. For this research to continue, 22 dogs were selected who had been proved to have pulmonary hypertension via echocardiogram. During the treatment period, the effects of sildenafil were measured with the help of radiography and ECG. The blood pressure was measured and clinical score was evaluated. 16 dogs out of 22 were females with old age and small size of the body. It was seen that sildenafil caused an improvement in their clinical score. However, there was no change observed in their physical examination. Sildenafil did not seem to affect their blood pressure, heart rate, respiratory rate, ECG heart rate and the vertebral heart rate. There was also no change in the peak tricuspid regurgitation flow velocities due to the administration of sildenafil but a selective improvement in the systolic time interval was seen. It was concluded from this study that sildenafil did not cause any significant improvement in treating the pulmonary arterial hypertension in these dogs. However, there was an improvement in the quality of life while other changes failed to show any significant alteration. [3]
Mode of Sildenafil Action
Sildenafil is a type of phosphodiesterase type 5 inhibitor. The basic function of this agent is to stop this enzyme from performing its normal physiological function of breaking down cyclic Guanosine Monophosphate (cGMP). This cGMP is needed by the penile musculature to produce relaxation in the smooth muscles and dilation in the vessels leading to the penis. Sildenafil accumulates cGMP in the corpus cavernosum which tags with nitric oxide to cause an increased blood flow and hence, produces a solid erection that stays for a long duration of time. [4]
Sildenafil Sandoz Effects for Erectile Dysfunction
Sildenafil Sandoz has been specially designed to deal with the miseries related to erectile dysfunction in males. It actively works to produce stronger and harder erections in men and ensures that these erections are maintained for a time enough to commence a sexual activity. The drug is also claimed to improve the quality of life of the patients and help in regaining their lost confidence. It can also be used to cure pulmonary arterial hypertension by dilating the vessels present within the lungs of the patient. [5]
Doses and Continuation of Therapy Recommendation
There is no definite indication about the recommended dose of Sildenafil Sandoz. However, the medicine must be used orally and once every day to observe positive effects while avoiding an overdose. Tablets must be swallowed with the help of plain water. Heavy meals and alcohol should not be used while consuming Sildenafil Sandoz to observe uninterrupted effects. The tablet should not be crushed or broken down in the mouth; otherwise, it can cause irritation in the throat. The effects of a single tablet of Sildenafil Sandoz are said to last for 4 to 6 hours in ideal conditions.
Side Reactions and Important Warnings
Sildenafil Sandoz has been associated with a lot of side effects in patients using it. The drug is capable of causing redness of face and ears in addition to a severe headache. The stomach becomes upset and the patient suffers from diarrhea and dyspepsia after using Sildenafil Sandoz. It can also result in muscle pain and backaches in some patients. In very rare conditions, the drug can interfere with the visual and auditory sense so of the patient and can even cause blindness or deafness. Sometimes, unwanted erections are produced by Sildenafil Sandoz that cause pain, such erections are known as priapism. [6]
Drug Interactions
Just like branded Cialis, Sildenafil Sandoz can react with certain nitrates and the combination can reduce blood pressure to a great extent. Other drugs include azole antifungals like itraconazole, ketoconazole, etc. Rifampicin and St. John's wort is also found to interact with sildenafil Sandoz in some cases. Additionally, alcohol, HIV protease inhibitors, and alpha blockers are not to be used with this drug for a risk of cross-reactivity.
Customer Reviews
Sildenafil Sandoz has not received many reviews from the customers, so nothing can be said about the credibility of this drug for sure. However, one of the websites has one comment made by a highly unsatisfied customer which indicates the negative aspect of Sildenafil Sandoz.
The customer had given a lowest possible rating to Sildenafil Sandoz and had been disappointed in other remedies for treating his erectile dysfunction. The 52-year-old took Sildenafil Sandoz in 25 mg potency for the first time at night. He called the drug a "poison" and said how he got different side effects only after 30 minutes of taking it. The side effects he mentioned included a headache, stomach ache, palpitations of heart and redness of face and ears. He vowed at the end of his review never to take Sildenafil Sandoz again. [7]
Price, Available Forms and Dosage
Sildenafil Sandoz has been officially discontinued by its manufacturer due to harmful side effects produced by it. Nevertheless, the drug can still be purchased from different websites online. 4 tablets of Sildenafil Sandoz with 100 mg of sildenafil can be obtained in a pack at a price of 50.60 US Dollars.
Several pharmacy stores are also offering shipping services to those who place an order of Sildenafil Sandoz from their website. One of such pharmacies offers a free shipping to different areas across the globe like America, Canada, and Australia at a flat rate of 10.50 US Dollars. [8]
Sildenafil Sandoz is available in one form only i.e. conventional tablets. The active component of these tablets is sildenafil citrate and its dose is advised to be tightly regulated to treat erectile dysfunction effectively without facing any additional consequences. A dose of 25 mg to 100 mg is usually considered safe for most of the patients which encounter a sexual dysfunction.
Conclusion and Rating
Sildenafil Sandoz has been unable to provide me with a single reason why I should even consider this drug for treating erectile dysfunction. The drug has been widely associated with so many dangerous side effects I would call it foolishness to use it. Sildenafil Sandoz has not been proven beneficial even once by anyone and it lacks reviews as well. The price is extremely expensive and after adding delivery charges, it becomes unaffordable for many customers. I would highly suggest the customers abstain from Sildenafil Sandoz and also warn others about the dangers this drug can bring along. The drug gets 1 out of 5 from my side and should not be used under any circumstance for treating erectile dysfunction.
Reference List
https://www.sandoz.com/about-us
http://onlinelibrary.wiley.com/doi/10.1046/j.1464-410X.2000.00790.x/full
http://onlinelibrary.wiley.com/doi/10.1111/j.1939-1676.2007.tb01947.x/full
http://www.medbroadcast.com/drug/getdrug/sandoz-sildenafil
https://www.medicines.org.uk/emc/medicine/28148
http://www.news-medical.net/drugs/Sildenafil-Sandoz.aspx
http://www.everydayhealth.com/drugs/viagra/reviews
http://brandmedicines.com/index.php?main_page=product_info&products_id=1513