Northern-pharmacy.com does not have any company biography or any information regarding the manufacturer, its product quality or any information regarding its licenses or certification of pharmacy business. With some basic questions and answers in the FAQ section, it tries to avoid giving away any concrete information regarding its dodgy service. Keep reading to follow our comprehensive review of this out of compliance potentially illegal online pharmaceutical business established to dupe consumers.
The northern-pharmacy.com website looks just like an ordinary online pharmacy yet, claims to be nothing of that sort! Shockingly, this seemingly average online pharmacy mentions in its disclaimer that it is not to be in any way, form or shape advised for the diagnosis and/or treatment of any medical conditions. An online pharmacy with great prices for generic pills and images of doctors & nurses on its webpages hides its true purpose by a statement in its website disclaimer. This is simply a legal loophole to avoid any issues should anyone be harmed by its products.
We would like to give you a strong disapproval for the use of northern-pharmacy.com or any other website with similar outlook for your own medical and financial safety.
Northern Pharmacy Approvals and Certifications
ScamAdviser
ScamAdviser is an excellent service which provides complete data on a website regarding its location, ownership, owner address, etc. Also, it provides a safety rating based on the trustworthiness of the website for consumers as well as, any additional information to warn visitors.
The first thing that is seen upon ScamAdviser's analysis is that northern-pharmacy.com is a website which has been threat listed. The website is located in the Netherlands, however the website ownerships links it to several other countries such as, Cayman Islands and the United States. The domain age is shown to be more than eight years yet, several malware is found and it is listed as a rogue business.
CIPA
The Canadian International Pharmacy Association (CIPA) verifies that northern-pharmacy.com is not approved or certified safe for online ordering business. With an Invalid status from CIPA, it is not a member of the pharmacy association and does not appear in its membership database.
LegitScript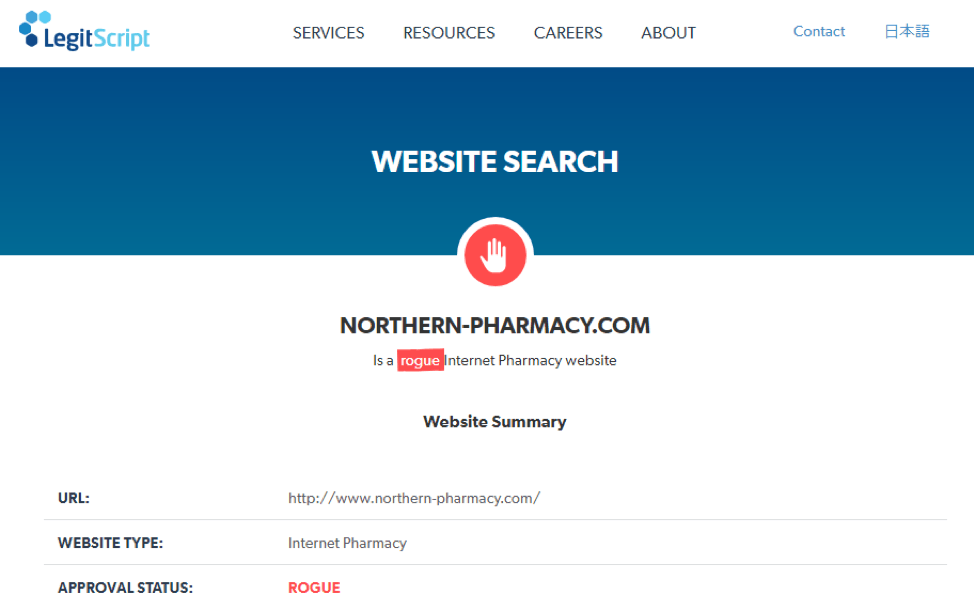 LegitScript identifies northern-pharmacy.com as a Rogue internet pharmacy website. The website summary further states that any website with such Rogue approval status does not meet any compliance or regulations for its business practices. Also, it warns that pharmacy may not even have the appropriate clearance necessary for the sale, dispensing, and manufacturing of drugs or any aspect of the pharmacy practices.
Northern Pharmacy Reviews
Northern Pharmacy Customer Reviews
Customer reviews, testimonials or any form of feedback is an essential tool to judge the overall service of any business. It is word-of-mouth which serves as the best of ways for any business to quickly capture its target market. Any business that does not have a platform to display the satisfaction of its existing or past customers, is most probably hiding a bad reputation. Please be aware before sharing personal and confidential information with any such online business, whether it's a mail-order pharmacy for medications or any ecommerce website for consumer products.


Northern-pharmacy.com has not provided any customer reviews on its website for potential customers to see. This has, most likely, been done to avoid potentially horrible and negative reviews which would most definitely warn anyone from using its services. As pictured above, this particular review has been found on an independent review website during our research. As seen from its contents, Northern Pharmacy does not comply with state or federal safety or pharmacy practice standards. We have found the domain to be active for over eight years. It is simply unbelievable that this website is still available to potentially scam consumers of their hard-earned money.
Trustpilot
Trustpilot is an independent review website which is reputed for its service to record consumer reviews and rate the website based on its customer experience. Norther-pharmacy.com is unclaimed on Trustpilot as a business and so it does contain any records of reviews or a rating. This may be intentional to hide the potentially bad reputation of the pharmacy.

MyWOT
MyWOT is another independent review website like Trustpilot. MyWOT displays an unknown safety rating for Northern Pharmacy while rating it 0.1 star for its reputation. It categorizes northern-pharmacy.com as scam and spam with a trustworthiness of 3 out of 100 and child safety of 1 out of 100. The stats are nowhere close to satisfactory for any business, let alone an online pharmaceutical business.
Trusted Pharmacies Reporting
Scam Pharmacies Reporting
Northern Pharmacy Coupon Codes
There are no coupon codes or discounts available for Northern Pharmacy anywhere on its website or anywhere else externally. It does display a hot deals section which when clicked takes the visitor to the most popular sold items. On checkout, it can be seen that there are free pills and discounts available with any purchase of more than 10 pills. Also, orders over 90 pills qualify for free airmail delivery.

Conclusion
The website northern-pharmacy.com is an out of compliance, threat listed and rogue online pharmacy which does not deserve any visitors and definitely no customers. A scamming and spamming business such as Northern Pharmacy may result in credit card frauds and other threats to consumers. We strongly advise our readers to beware of such businesses and, most definitely, keep away from indulging in any business on northern-pharmacy.com for their own safety.
At the end of our review, we rate northern-pharmacy.com a mere 1 star for its business.