My-canadianpharmacy.com is one of many online pharmacies included in a database of rogue Internet pharmacies established to fool consumers into sharing their personal & confidential information by offering discounted pharmaceutical products. The general consumer would prefer to get these particular pharmaceutical products online to avoid walking into an actual pharmacy. While there is nothing wrong with the concept of mail-order medications, the high frequency of scamming and fraudulent activities associated with this type of online retailer is appalling, to say the least.
It is important to note that most, if not all, the claims on my-canadianpharmacy.com are false. They include false spam messages, false reviews, false products, false security assurances, false licenses and more. Even the name "My Canadian Pharmacy", is deceitful because this company is not associated with Canada in any way.

The process of placing an order is quick and easy, requiring a total of less than 5 minutes. The customer is not prompted to take a survey, fill out a prescription, or provide medical history. Simply select a product and input credit card information. A confirmation email is sent, and it is assumed the order will arrive. At no point in the ordering process is a secure page presented to the consumer, and the website is not SSL secured or encrypted.
My Canadian Pharmacy Approvals and Certifications
ScamAdviser
ScamAdviser recognizes the My Canadian Pharmacy website as a threat. It is based out of France and the location is hidden. There are several malware, virus, and other rogue activities flagged for my-canadianpharmacy.com. No popularity rating is available for the website and it receives a 51% high-risk rating by ScamAdviser.
CIPA
The website is not Canadian and my-canadianpharmacy.com is nowhere to be found on the Canadian International Pharmacy Association (CIPA) members' database. It has made the false claim of being a CIPA member to trick consumers. However, it is found on a separate list created by CIPA called the database of "Rogue Online Pharmacies and Fake Mail-order Prescription Websites". Needless to say, this is something that will not generate business for my-canadianpharmacy.com.
LegitScript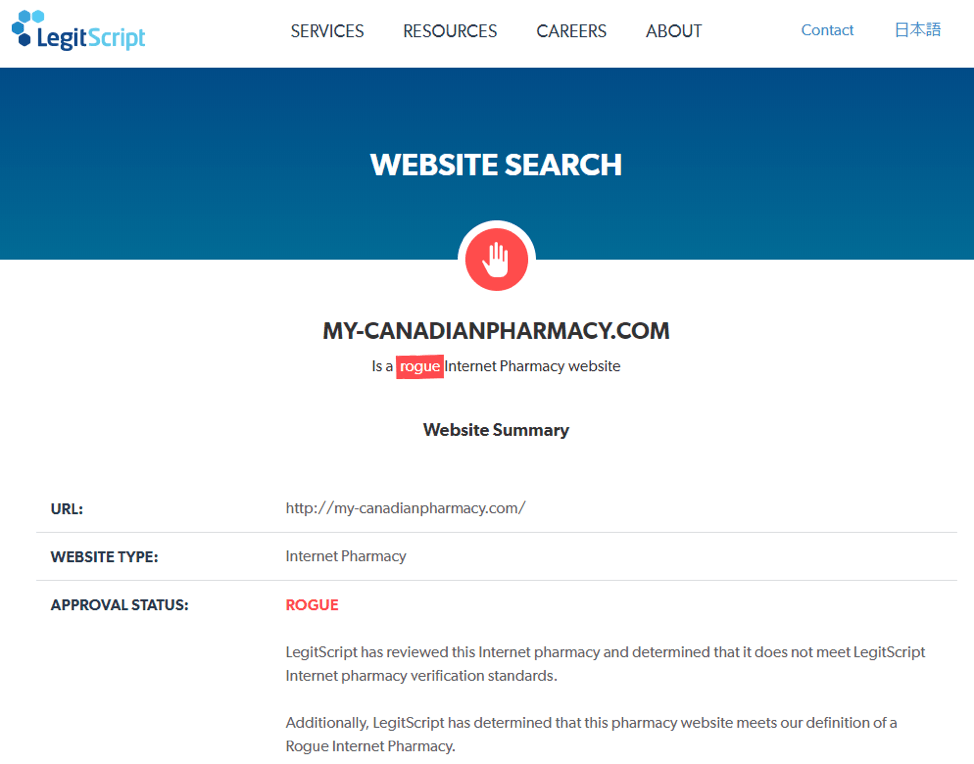 By this point, you are likely convinced that My Canadian Pharmacy is a rouge Internet pharmacy website. However, further evidence exists, including the Rogue status given by LegitScript.
The website my-canadianpharmacy.com violates the legality of business operations. It is not licensed, certified or in any way fit for conducting business online. While claiming to be a mail-order Internet pharmacy, it has been scamming, spamming, and deceiving consumers of their financial and personal data. Such deceptive business practices by an illegal entity must be penalized and removed from the World Wide Web to ensure greater security of online consumers.
My Canadian Pharmacy Reviews
My Canadian Pharmacy Customer Reviews
The overly-satisfied content of the customer reviews suggests a lack of authenticity. The customer satisfaction claims are exaggerated and unprofessional. It's highly unlikely that a true consumer would make those types of comments. Save yourself the trouble and stay far away from my-canadianpharmacy.com.
Trustpilot
The website my-canadianpharmacy.com is not found on Trustpilot either. Trustpilot is an independent review service recording online customer experiences. Unfortunately, My Canadian Pharmacy's website certificate is a fake. A business like this cannot be trusted and should not be allowed to conduct online business where they fool unsuspecting, innocent consumers worldwide.

MyWOT
The safety rating for my-canadianpharmacy.com by MyWOT is unknown and receives an dismal 0.2 stars out of 5. It is questionable how it managed to get even 0.2 stars with such a poor online reputation. The Safety Rating Breakdown gives it 4 out of 100 for trustworthiness and 9 out of 100 for child safety. There are several comments that blame My Canadian Pharmacy for identity theft, credit card abuse, fake pharmaceutical products and scams.
Trusted Pharmacies Reporting
Scam Canadian Pharmacies Reporting
My Canadian Pharmacy Coupon Codes
The website my-canadianpharmacy.com claims to have great deals on pharmaceutical products that traditionally require proper selling & dispensing techniques. Because it is a fraudulent site, it doesn't actually deliver pharmaceutical products, which is good news because they won't negatively affect customers' health conditions. The website is designed to trick consumers into providing their personal information, credit card information, and other confidential data. Offers for free shipping, free pills and free delivery insurance are promised to fool consumers into placing a large order as soon as possible.

Conclusion
My Canadian Pharmacy looks like a standard Internet pharmacy but it is far from legitimate. The site is a complete scam and there is no positive feedback we can offer about my-canadianpharmacy.com. We encourage our readers to report websites like this and avoid conducting business with them.
We give my-canadianpharmacy.com 1 out of 5 stars.