Mpswny.com (Mobile Pharmacy Solutions) is an American based pharmacy that has been operating for six years and has developed a reputation for itself. Following, we are going to review this pharmacy and give our verdict on whether you should trust it or not. So, stick with us!
Mobile Pharmacy Solutions is a full-service pharmacy based in New York. The company offers something more than just quality products. It also provides in-home consultation and treatment. This is a first for us. We hope the site delivers what it promises because it has created a positive outlook for itself.
Mpswny.com Approvals and Certifications
ScamAdviser
Mpswny.com has an excellent start. Yes, ScamAdviser gives it a 100% trust score. This is very rare, and it is perhaps the second site that received such a high rating. According to analytical data, the domain age is six years. The website location is the United States, but there is no data available about the owner's location!
The website has high and stable traffic. The pharmacy has strict guidelines, and it requires a prescription before selling medicines. This is a sign of a trustworthy pharmacy.
CIPA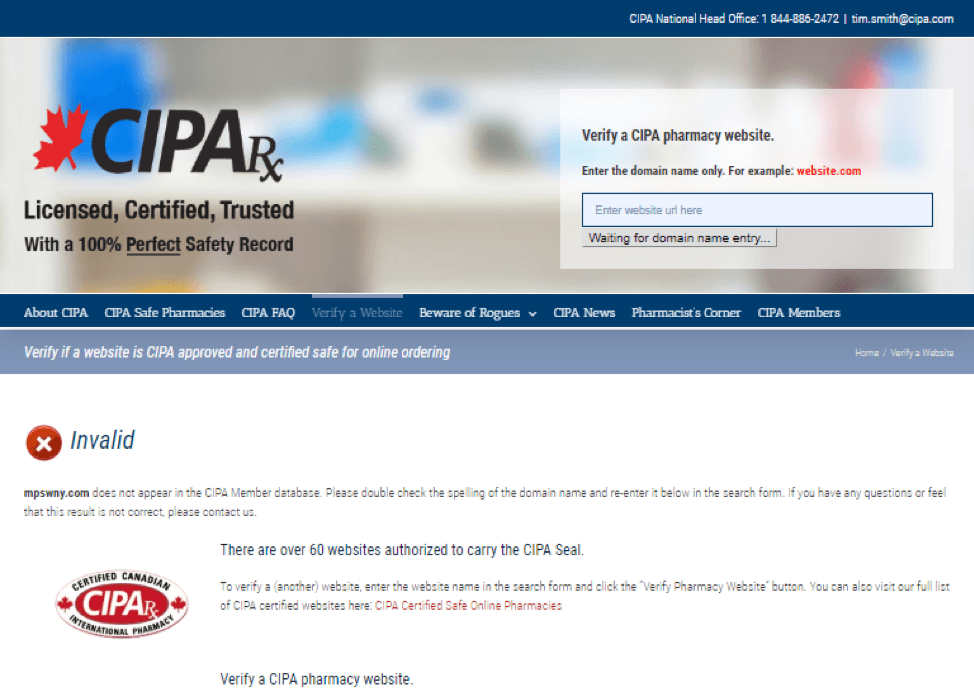 Mobile Pharmacy couldn't obtain the CIPA seal. CIPA or Canadian International Pharmacy Association is among the most respected authority in medical market space, and it would be a significant victory for Mobile Pharmacy.
CIPA licenses and certifies online pharmacies. This creates trust among the buyer community. However, this isn't the case with mpswny.com.
LegitScript
LegitScript has no data available on mpswny.com. This is unusual because LegitScript covers most of the market space. This is very rare that this checker doesn't have any detail on a pharmacy. We are unnerved because Mobile Pharmacy is quite old, it's not a new website. So, we can't point out why legit script missed it.
We can hope the company will soon review Mobile Pharmacy and give its verdict.
PharmacyChecker
PharmacyChecker is also one of the most regarded platforms in the medical market space. However, this platform doesn't have anything available on mpswny.com. We don't know why it missed this pharmacy, but we do hope the company review this pharmacy soon and give its verdict.
Mpswny.com Reviews
Trustpilot
TrustPilot is among the most popular review platforms, but it doesn't have any reviews available on Mobile Pharmacy Solutions. There is no single customer review on this site, and it's not healthy for the pharmacy. So far, we didn't find anything negative about Mobile Pharmacy. However, we are unnerved that top review websites have nothing available on this pharmacy.
Mobile Pharmacy is a few years old, it's not a newly registered pharmacy.
WOT
WOT also has no data available on Mobile Pharmacy. The website has no user reviews posted. There are no ratings whatsoever. Yes, Mobile Pharmacy has unknown safety rating and reputation of n/a. The safety rating has no data available on trustworthiness no data and child safety.
We are surprised to see Mobile pharmacy is not recognized by most platform we use. It bugs us because most platforms don't identify newly registered pharmacy whereas mobile pharmacy is about six-year-old.
Mpswny.com Google Reviews
Mpswny.com has no Google Customers Reviews. The pharmacy didn't bother to sign up for a Google Business Profile, and so it doesn't have any reviews available. This is a big bummer because google reviews get great exposure to a brad. You don't need to invest a single cent.
But for some reason, the company didn't bother to benefit from this opportunity. We don't know what the company is thinking, but this was a significant loss.
Mpswny.com Coupon Codes
Mobile Pharmacy reverted no resources to develop any customer loyalty program. It would appear as the company doesn't care about developing any strong relationships with customers. Discounts and Coupon Codes are an effective way to flourish your business and expand your customer base. It helps strengthen your position.
This is a great way to develop more business, and it's a stepping stone for future opportunities, but the mobile pharmacy doesn't seem to care about it.
Trusted Pharmacies Reporting
Conclusion
This is weird. Alright, we didn't find anything strongly opposing Mobile Pharmacy. We will admit we are a bit skeptical about this pharmacy, but we deem it safe. The checkers we use either doesn't know about this pharmacy and the ones that do give this pharmacy a positive review. Just take precaution and research a bit.
We rate mpswny.com on 3 stars out of 5 rating.