Generic-pharmmacy.com gives you the look and feel of any other online medicine company. With a website which has been in service for over two years, you will be left stunned at what customers say about it. Generic-pharmmacy.com claims of superior quality pills at unbeatable prices but there are no records available in any review sites.
The website, generic-pharmmacy.com, is supposedly proud to offer huge discounts which can go up to 80%. It also states that the pharmaceutical products available are safe and approved by the World Health Organization standards. Although it says that it has been in operation since 2002, the website has been available for a little of 2 years.
In our review, we found a customer's comment on ScamAdviser.com, who called out this company for being a fake. The customer claims to have lost 145 Euros on Generic-Pharmacy. While generic-pharmmacy.com claims it has thousands of customers who are satisfied with its affordable and easy-to-use service, there are no customer testimonials on the website or found elsewhere during our complete review of the company.
Generic-pharmmacy.com Approvals and Certifications
ScamAdviser
ScamAdviser recognizes generic-pharmmacy.com as a website which is United Kingdom based but the owner is tied to the Russian Federation. The trust rating for this website is a cautionary 66% and the website is valued at over 500 US dollars. ScamAdviser clearly points out that the site involves a high-risk country and so, we urge consumers to steer clear of this online pharmacy company.
A comment by a past customer of generic-pharmmacy.com was found on the ScamAdviser website. It clearly states that this website is a fake which took money from the customer and provided no service. The website is in operation for fooling innocent consumers to take their money, we advise everyone to steer clear of generic-pharmmacy.com.
CIPA
As expected, generic-pharmmacy.com is not part of the Canadian International Pharmacy Association and it is clearly labeled as "Invalid". CIPA members are approved and certified for business and Generic-Pharmacy is not licensed as a legitimate online pharmacy.
LegitScript
LegitScript has most appropriately labeled Generic-Pharmacy as a "Rogue Internet Pharmacy". The "ROGUE" approval status by LegitScript recognizes it as a fraudulent or deceptive business. A fake wesbite which obviously doesn't meet any standards, laws or regulations for running an online pharmaceutical company.
Generic-pharmmacy.com Reviews
The website does not have a customer feedback section available on the website. Neither does it have any customer reviews or testimonials anywhere on the website. This proves that there are no legitimate business conducted here, as there are no customers! The Help section of the website has the most frequently asked questions for those who need answers for its low prices, quality of products, delivery options, refund and cancellation policy. Also, there is a live chat option for potential customers as well as a US and an EU phone number for placing orders.
In our search for reviews for generic-pharmmacy.com, we found a customer on the ScamAdviser.com comment section by Petros Birbilis. Mr. Birbilis commented over a year ago claiming this website to be a fake and usurping 145 Euros from him. This is the single proof of generic-pharmmacy.com to be a scam online pharmacy which has been setup for fooling consumers and taking their funds.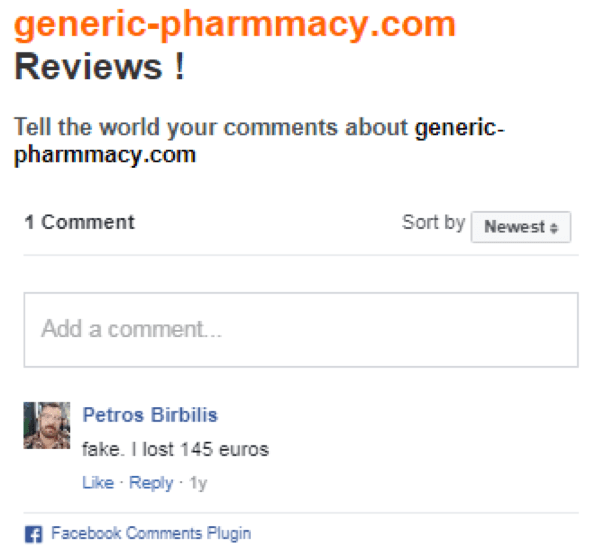 Trustpilot
To absolutely no surprise, Generic-Pharmacy is not claimed as a business on Trustpilot. As a result, the trust for it as an online business, or a pharmacy, or even a company is null and void.
MyWOT
MyWOT has no data available for generic-pharmmacy.com. It does not have a safety or a reputation rating. On the safety rating breakdown, it does not contain any data for rating its trust or safety. MyWOT also has no information on the ownership of the business.
Scam Pharmacies Reporting
Trusted Pharmacies Reporting
Generic-pharmmacy.com Coupon Codes
Generic-Pharmacy has a very finely organized and detailed product inventory and ordering process. It offers 10% off for customers who have come back for their second orders. So they have a separate price for those returning customers, as well as, some free pills with their orders. This is what probably fools consumers into thinking of it as a legitimate business and continuing with their order.
Conclusion
Generic-pharmmacy.com is a scam website which operates with a mask of being an online pharmacy company. The company is not worthy of trust regardless of the information presented on its website. All information presented on the website is designed for fraudulent activities. We found no valid support for the company throughout our complete review of the website. We highly urge consumers to avoid this website for their online medicinal needs.
We review generic-pharmmacy.com as a scam website and give it a 1 star rating out of 5.