Aiddalombardia.com also known as Canadian Pharmacy Online is an international pharmacy that serves a wide audience. The company is a couple of years old and had built its customer base. But the company isn't very famous, and those who know it doesn't have anything positive to say about it. We are going to look into it!
Aiddalombardia.com or Canadian Pharmacy Online is an international pharmacy which says it offers a trusted source of medicine.
The company doesn't offer any precise details about itself. You can't obtain it's contact details. There are no email address or phone number given on the website. Plus, the About Us section doesn't offer anything valuable. It doesn't provide the company's history, staffing, background, and other vital information. We weren't expecting this.
Canadian Pharmacy Online Approvals and Certifications
ScamAdviser
ScamAdviser gives Canadian Pharmacy Online a positive start with 78% trust score. This is a good score considering the analytical data shows the company owner country is China, while the website owner country is the United States. The website is almost five years old. However, several issues are plaguing the site like a high-security risk, mainly because it hails from a high-risk country.
CIPA
Canadian International Pharmacy Association Licenses and Certified online pharmacies to create trust in them. It honors the right candidates with Certified Canadian International Pharmacy Seal. This seal is a significant win for any online company.
However, the company mainly operates in Canada and hardly certifies any foreign body. This is the same case with Addalombardia.com. Although it has a Canadian name, the company operates outside of Canada and therefore it couldn't obtain the certification.
LegitScript
LegitScript declares Canadian Pharmacy Online a "Rogue" Pharmacy. The company engages in fraudulent practices and, deceives its clients. It appears as the company sells fake products or medicine at a very high rate. The company has sub-standards and fails to live up to strict regulations set by the medicinal company.
The company doesn't care about its user. It only tries to lure them and trap their money.
PharmacyChecker
PharmacyChecker is among the trusted checkers on the internet. Canadian Pharmacy Online didn't have any luck with it because it didn't make into the good books of PharmacyChecker. Well, that's not the best thing in the world. But it didn't get blacklisted as a fake or rogue company. We hope the company will soon review Canadian Pharmacy Online and give its verdict.
Canadian Pharmacy Online Reviews
Trustpilot
TrustPilot is perhaps the most famous platform we use. However, we are surprised to see Aiddalombardia.com has no community on this platform. Yes, there are zero customer reviews, there is no star rating available.
This is yet another major miss by Canadian Pharmacy Online, and it could manage a positive outlook on trustpilot.com, it would help the brand create a positive image for itself.
WOT
WOT has nothing available on Canadian Pharmacy Online. The Safety Rating is Unknown, and Reputation N/A. The trustworthiness score has no data, and so does child safety. Moreover, Canadian Pharmacy Online has no customer reviews on WOT.
We are very disappointed to see that none of these platforms is advocating Canadian Pharmacy Online. Besides ScamAdviser, no one else gave this pharmacy a positive review. Even worse, most checkers didn't even know that this platform exits. This is something the company should fix.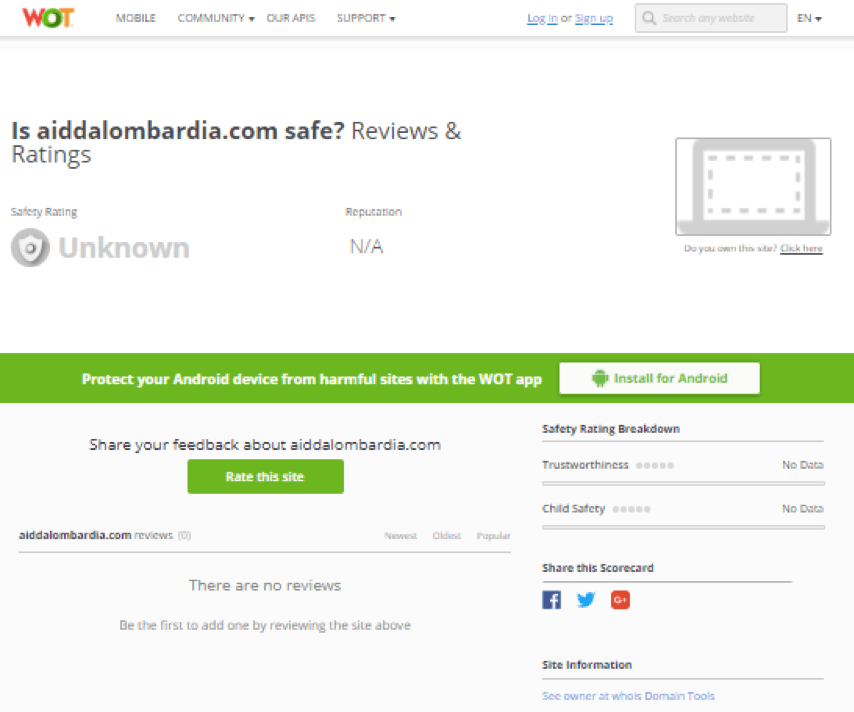 Canadian Pharmacy Online Google Reviews
We wanted to see how the general audience sees this company, and therefore we tried Google Reviews. As expected, there was nothing available. The company doesn't even have a Google Profile. The company is missing a serious opportunity to advertise itself. This will cost the business in the future.
Canadian Pharmacy Online Coupon Codes
The company doesn't try to build brand loyalty. The company doesn't offer any discount or coupon codes. So, if you wanted to save a few bucks with Canadian Pharmacy Online, you can't because there are no savor deals.
The company should step up its game if it wants to stay in the competition.
Trusted Pharmacies Reporting
Scam Canadian Pharmacies Reporting
Conclusion
After going through everything, we are hard pressed to say this company engages in fraudulent practices. Aiddalombardia.com or Canadian Pharmacy Online is a fraudulent company that engages in deceptive business practices.
The company doesn't have a positive presence on the internet. Either the companies don't know this brand exists or gives it an awful review. This is alarming because the company is famous for all the wrong reasons. Our verdict, don't buy from it.
We rate Canadian Pharmacy Online on 2 star out of 5 rating.