Axepta is used in the treatment of Attention Deficit Hyperactive Disorder (ADHD) which is a psychiatric disorder characterized by impulsive acting, problems of attention and concentration and hyperactivity that is not appropriate with the patients age. This disorder affects both children and adults. Axepta acts by selectively inhibiting the reuptake of norepinephrine by nerve cells in the brain. Axepta increases the levels of norepinephrine in the brain and this controls behaviour.
Axepta is manufactured by Intas Pharmaceutical Ltd in India and its available worldwide for the treatment of attention deficit hyperactive disorder.
Though available online, it is important that the drug be given on doctor's prescription to prevent abuse and overdose.
Its active ingredient is Atomoxetine which is considered amongst the first line of treatment for patients with ADHD. It is packaged as Axepta-10, Axepta-18, Axepta-25, Axepta-40 and Axepta-60 containing 10mg, 18mg, 25mg, 40mg and 60mg Atomoxetine respectively.
Axepta Reviews
There are not too many reviews on Axepta found online.
A doctor named Dr. Susanta Padhy said "Usually with the starting of Axepta or with increasing the dose of Axepta, the symptoms of restlessness, anxious, nervousness are common" and he also confirmed that these symptoms disappear as the body get adjusted to it. About this drug's addicting capacity the doctor also replied "The "dependence" or "addiction" potential of this medicine is very negligible compared to other medicines, like methylphenidate that are used in similar conditions."
Another customer review of Axepta was found online. Baboon has this to say about Axepta 'I received 30 pills of Axepta from indianapharma, it seems effective for me'. He also commented on the main secondary effect of decreased sex drive but he was okay with the resolution of symptoms during treatment with Axepta.
Pricing and Dosage
The dose of Axepta should be controlled and you should follow doctor's prescription. It is available in 10 mg, 18 mg, 25 mg, 40 mg and 60 mg. For adults with ADHD, recommended dose is 40mg once daily taken orally. However, dose may be adjusted to 80 mg once daily or 40 mg twice daily depending on rate of control. Dose should be adjusted accordingly in patients with moderate to severe liver disease. In children >6 years and 70kg, they are given adult doses. Total maximum dose for children should not exceed 1.4mg/kg/day.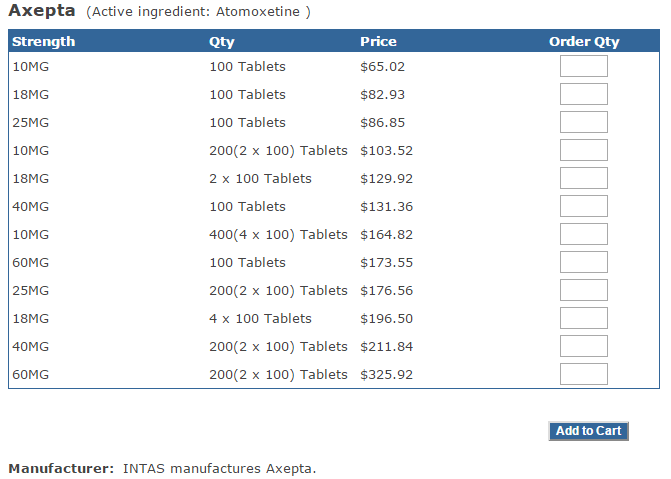 Axepta is cheap and affordable. Price may vary $1-$3 per pill depending on the dose, number of strips (tablets) and supplier pharmacy.
How to Buy Axepta Online
Most online drug retailers offer cheap Axepta online which can be bought without a doctor's prescription. Some of these websites offer free shipping on Axepta.
How to Use
Axepta is swallowed whole with water. It may be taken with or without food. However, it is advisable to take the drug with meals. A strict dosing routine should be maintained to prevent overdose and side effects. It is best taken in the morning before breakfast to ensure maximum absorption and symptom control during the day. Whenever you miss a dose, do not panic, just take the missed dose. If it's more than 24 hours, just take the current dose. DO NOT take double dose to prevent overdose.
Side Effects
Axepta when used as recommended is safe and free of side effects. However, side effects associated include:
Dry mouth (xerostomia)
Severe throbbing headache
Anorexia
Nausea and vomiting
Abdominal cramps
Loss of appetite
Cough
Increase blood pressure
Dizziness
Irritability
Erectile dysfunction
Alteration in menstrual cycle
Dermatitis
Mood swings
All side effects should be reported to your doctor for prompt evaluation.
Conclusion
Axepta is available and cheaper when compared to other generic drugs from different manufacturers. Do not use Axepta if you are allergic to that. Based on the few reviews available, Axepta can be given 4 stars on a scale of 5 to 5 based on its efficacy, availability and fewer side effects. It is an effective treatment for Attention Deficit Hyperactive Disorder.