Aetna.com is a health insurance provider based in Hartford, CT offering a wide range of services for individuals, employers, students and government employees. It was founded in 1853 and has been successfully insuring the health of millions across United States through its affordable programs. They even provide programs for international travel that include medical, dental and life insurance.
Once you have registered for one of their programs, you can log in on their website and access many helpful resources. Their service 'Find a Doctor' will provide you with all the necessary information including appointment setting for doctors near you thanks to their nationwide network. Their pharmacy services can be availed online as well. With Aetna Rx Home Delivery, you can get up to 3 months of medicine at your door for treatment of long term diseases like diabetes or high blood pressure. Pharmacy claims can be submitted online using your account.
Whether you are an individual, a family or an employer looking for health plans you can find all the relevant information on their website. You can contact them via phone or email. Their 24-hours pharmacy can be contacted at any time should you need assistance with your medication.
Aetna.com Reviews
Aetna has largely negative reviews on yelp with average rating of reviews a meager 1 star. Most of the reviews seemed rather more like complaints. One reviewer, Patrick H., from California reported that he was disappointed when his employer switches to Aetna as his doctors were not in Aetna's network. He said he had to change doctors twice.

One customer did not hesitate from calling them the worst plan because he found their customer services and coverage plans not quite helpful. This reviewer, Crystal B., again from California happened to be an insurance representative herself.
There were few positive feedbacks as well. The review had full 5 stars, however, it was posted back in 2011 and cannot help describe Aetna's current standing.
It must be noted that Aetna provides insurance plan to people all over the country, which means that tens of thousands of people are using their plans. And compared to this big number, the reviews are very less as well as mostly negative. It is likely that only the people who had complaints turned to Yelp to post their situation.
Aetna.com Reviews 2015
Toptenreviews.com compared their programs and reviewed their rates. According to their review, their premiums are very low and have some of the cheapest programs in general. But they also noted that they do not have adequate short term policies to cover changes in employment. They also reported that their plans for people above 55 do not offer as much as other programs.
One reviewer from Nevada, reported that Aetna upgraded his plan to an expensive one without his consent. He was overall very dissatisfied with their website and customer services too.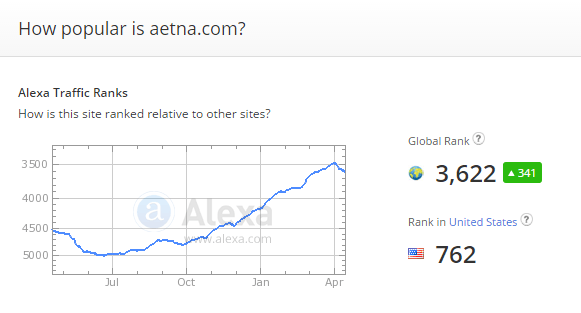 Most of the reviews are about their plans and coverage only and there is no comment on their website or the services available on it. Therefore, we turned to Alexa.com to run a traffic analysis of their website. According to this analysis, Aetna.com ranks among the top 1000 websites in US (Rank: 762). Its global rank is 3,622. These numbers show that it gets millions of visits and corroborates the fact we mentioned earlier that Aetna provides insurance plans for a lot of people.
Most of its visitors are of course from the United States but the second highest number of visitors, although not very significant, come from India. This is because many Indians live and work in America. The average visit time per user per day is 6 minutes 34 seconds.
Aetna.com Coupon Codes
Aetna.com provides health insurance plans at market competitive rates. Their plans' premiums are among the lowest so a lot of people can afford their plans. They do not have any coupons to be used with their services. However, they claim their pharmacy provides you with best rates, helping you save your money.
Conclusion
Aetna.com has many health insurance programs for individuals, families and organizations. They have been providing plans for a very long time and have some of the cheapest premiums. Their website has detailed information about their plans and users can log in to avail several helpful services like finding a doctor, or renewing their prescription. Their reviews were generally negative but those reviews themselves were far less in number compared to the people covered by their plans. The website's overall usability is quite decent and the information is organized in such a way that the user will land on their intended page in just few clicks. Based solely on their website, we would give them 2 out of 5 stars.